Bison
Ancient Birdbath
State Capitol Dedication Obelisk
Kansas Veterans Walk
ARCHITECTURAL HIGHLIGHTS
Constitution Hall

433-423 S. Kansas Avenue
This block is the site of Topeka's first building.

Federal Building
 
Columbian (Knox) Building
 
Commercial Buildings
 
Thacher Building
 
Jayhawk Theatre & Arcade
 
Cyrus Holliday & BNSF Park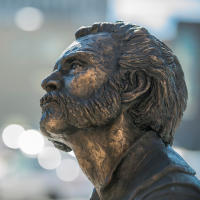 Cyrus K. Holliday's contributions to Topeka are many and can be seen all over the city – from the actual site selection to the planning of the streets. The AT&SF railroad was singlehandedly created by Holliday and the amount of prosperity it brought to Topeka can be directly attributed to him, even the 20-acres of land on which the Capital now sits was donated by Holliday. The history of Topeka extends through many genres and topics; it has affected people regionally, nationally and internationally and has had a significant impact on our nation.
After making his way from the East to claim land in the Kansas Territory he helped form the Topeka Town Association and was elected its first president.
Helped form the Free State Party and helped secure Topeka as the future Capital of Kansas at the Wyandotte Constitutional Convention.
Served as the first Mayor of Topeka.
Created the Atchison, Topeka & Santa Fe Railroad which would later become BNSF railroad.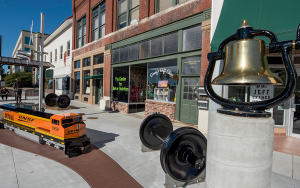 The BNSF Pocket park was sponsored by Burlington North Santa Fe. This pocket park is train-themed and features a statue of Topeka founder Cyrus K. Holliday. This statue was sculpted by Lawrence-based artist Joe Skeeba. There is a built-to-scale, 1,500-pound replica of a BNSF locomotive engine crafted by a crew of BNSF staff members. You can also find an interactive, old-fashioned locomotive bell, a railroad crossing sign with lights and two train-wheel park benches.

Back to Top
McKinley Burnett
Arthur Capper & US Bank Park
Samuel Crumbine & Kansas Health Institute Park
Harry Colmery & Colmery Memorial Park
Charles Curtis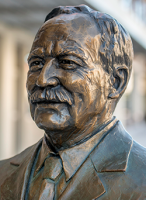 When Charles Curtis was selected by President Herbert Hoover to serve as his Vice President, Curtis became the first Native American to hold the office, the first Vice President to come from west of the Mississippi, and the first Vice President from the state of Kansas. 
During his time in Topeka, Curtis attended Topeka High School for several years. Although he didn't graduate, he continued to study law while holding several different jobs. He became known as one of the best horse jockeys in the area and after winning several races he became well known as "the Indian Boy". Curtis also worked as a clerk in the law office of A.H. Case and after passing the bar exam in 1881, he became a partner at the law firm. In 1884, Curtis began his first campaign for public office and became Shawnee County attorney. In 1889, Curtis failed to win the nomination for a vacancy in the House of Representatives by one vote, but just three years later Curtis went on to win the election for a seat in the House of Representatives and was re-elected for the next six terms.
Curtis was elected Senator in 1907, a position he would hold unit 1929. During his time in the Senate, he became even more influential. He eventually worked his way up to Senate majority leader in 1925 where he was known for his ability to accomplish results for both progressives and conservatives. 
Ichabod Washburn & Clayton Financial Park
Security Benefit Kinetic Art & Park
Bartlet & West Park
Hill's Sculpture & Hill's Pet Nutrition Park
Abraham Lincoln
Ad Astra
Capitol Federal Fountain Dome/Limestone Base & Park
Evergy  Park
Kansas Law Enforcement Memorial
Statue of Liberty
Pioneer Women of Kansas
MARS Park
Sertoma Clock
150th Kansas Anniversary Tree
Sunflowers Bike Rack
Kansas State Symbol Medallions
Bison
Ancient Birdbath
State Capitol Dedication Obelisk
Kansas Veterans Walk